So I've been MIA in the past few weeks, I can explain!
Ok, Ok I wasn't necessarily missing.. Just took a little break from blogging.
I have a really good reason as to why! My second passion....
Interior design.. 
( in other words, driving my husband insane with all my crazy remodel ideas I have!)
Photography first, anything with a paint brush second! :)
This past month I was added to a group on Facebook called "At Home"  
 Warning: You will have to urge to redecorate everything in your home if you join this group! 
I have been wanting to redo our formal dining room area, that up until last week served as my office. For an office it didn't really meet my needs. It was dim and cold, the floors are hard wood. So the dogs would insist on sitting on my lap while I edited photo's.
And joining the "At Home" group just sped up and fed into my urge to do so even more! 
I have since moved my office to a vacant room up stairs. It is well lit, carpeted ( the dogs love) with a cute little Juliette balcony over looking the front of the house. It's perfect for me!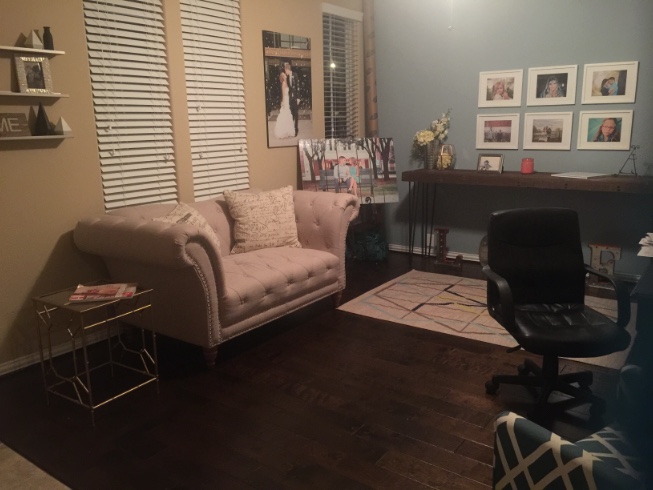 Back to the dining room :)  
I am obsessed with the color gray! If I could make our entire house gray I would! 
I love the contrast of the white trim and the gray walls!
I had this idea for the dining room of gray walls, with white chair rail and crown molding. Also I want the bottom half of the wall to be white from the chair rail down. 
I decided one day the I would clear my office out and start the painting process of what I had in mind, I called my husband and told him my plan to paint; he says "knock yourself out" :) 
Little did he know that meant I wanted to get the ball rolling on the entire dining room project :) 
After way to many trips to home depot in one week, we were ready to tackle this "little" project! 
 A few days into the project of placing the crown molding and trying to figure out how to make the chair rail work with the rounded corners in our home, we threw in the towel! We decided to make some calls for a contrator to come finish out the crown molding and the chair rail work for us. Our home is brand new and we decided we wanted it all to be done right. 
WE WERE IN OVER OUR HEADS! 
Here are some images of the process along the way! 
We still need a dining room table and a Buffett table to replace our longer table that is in the photos. 
My idea for this room for decorating is: 
Rustic, shabby chic! I want to do a chandelier, lots of greenery. A rustic white table that seats 8-10. 
I will post photos of the finished room once we get there!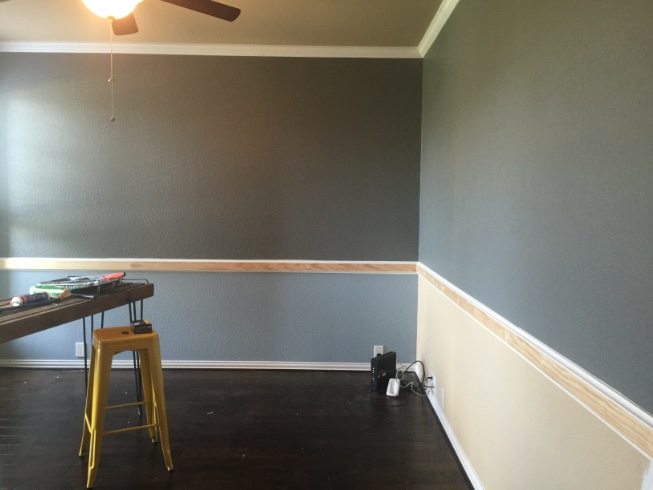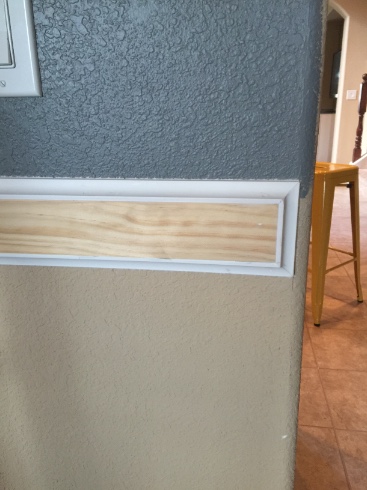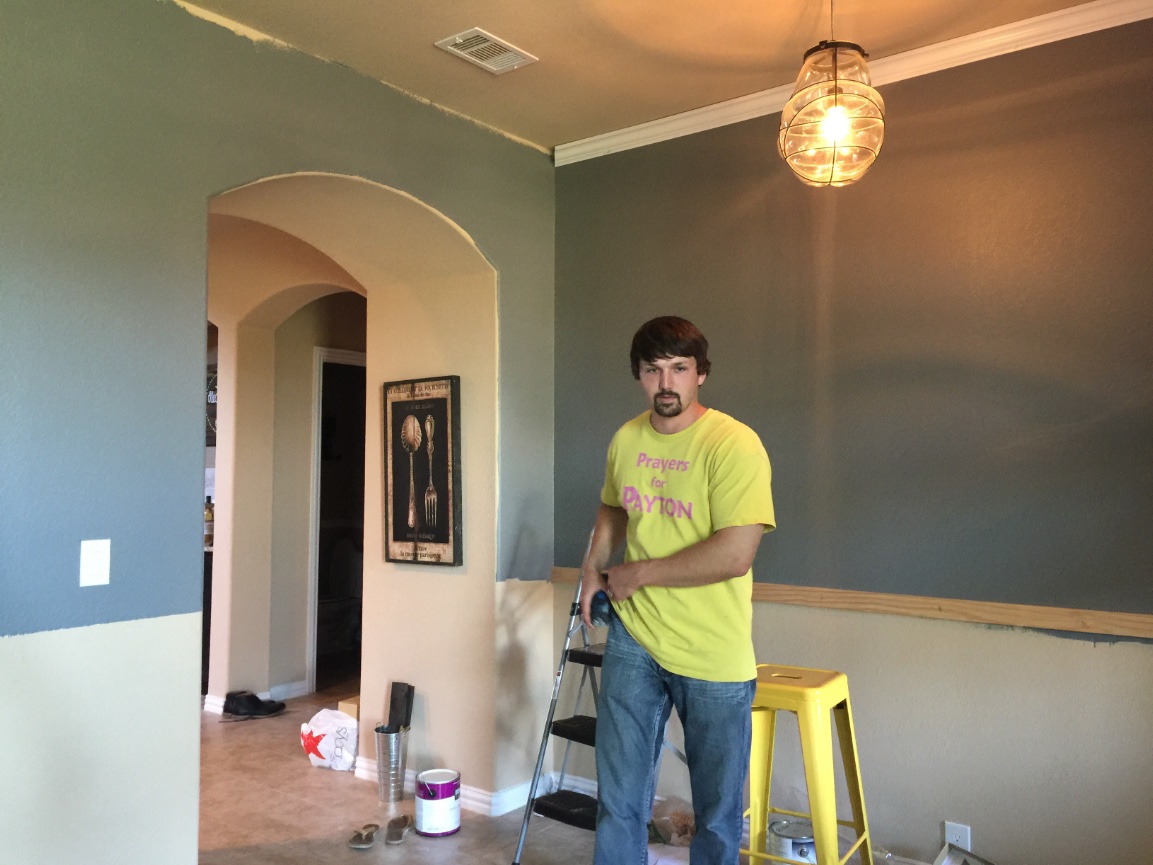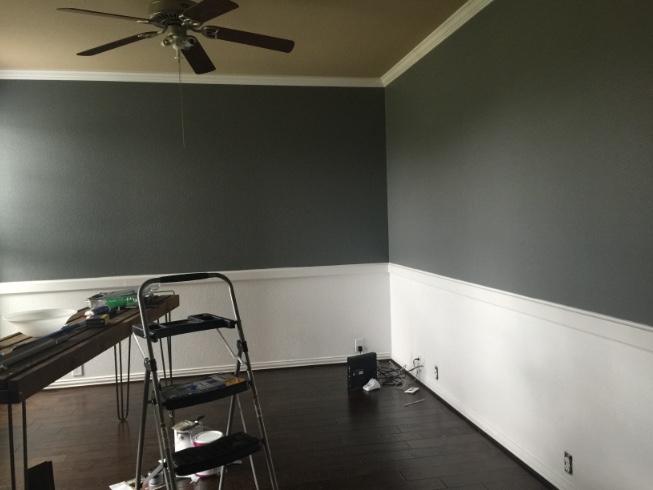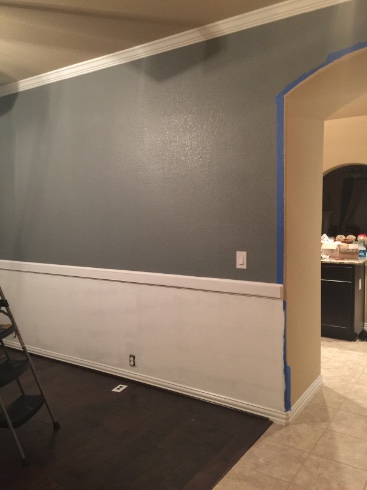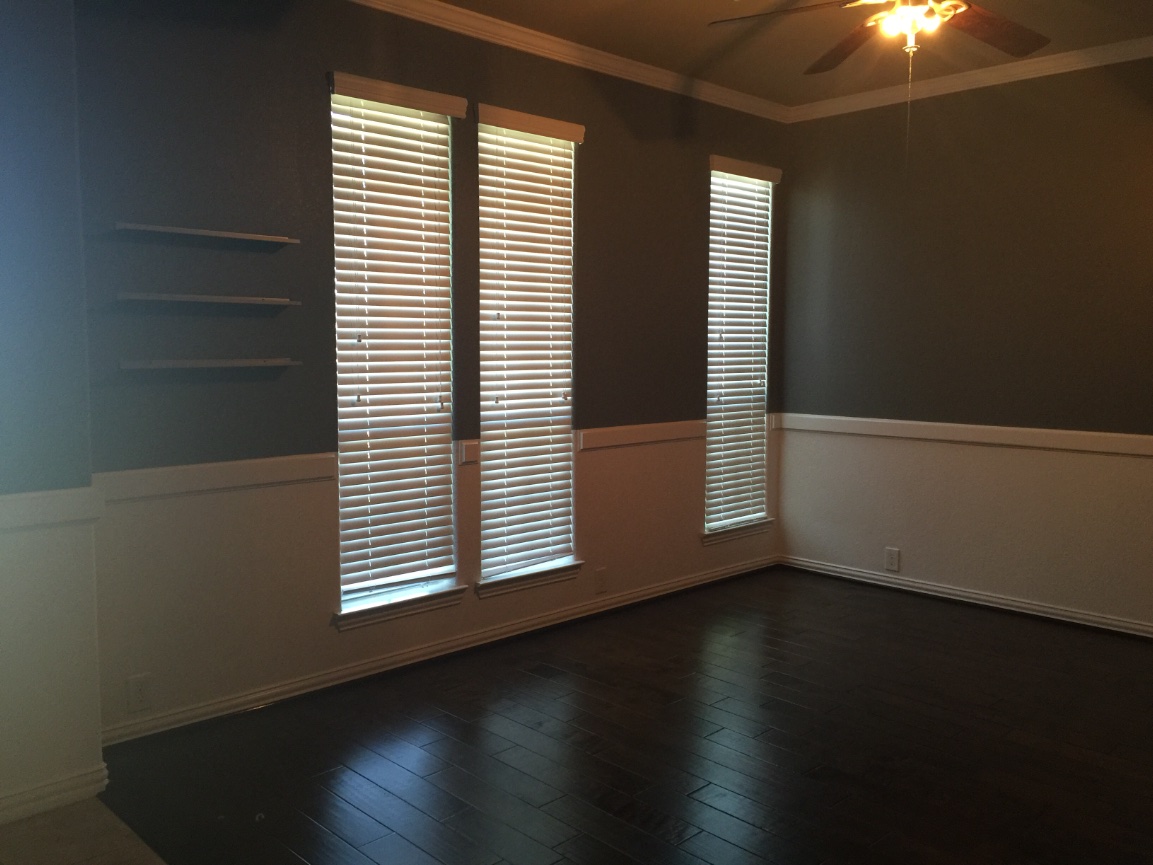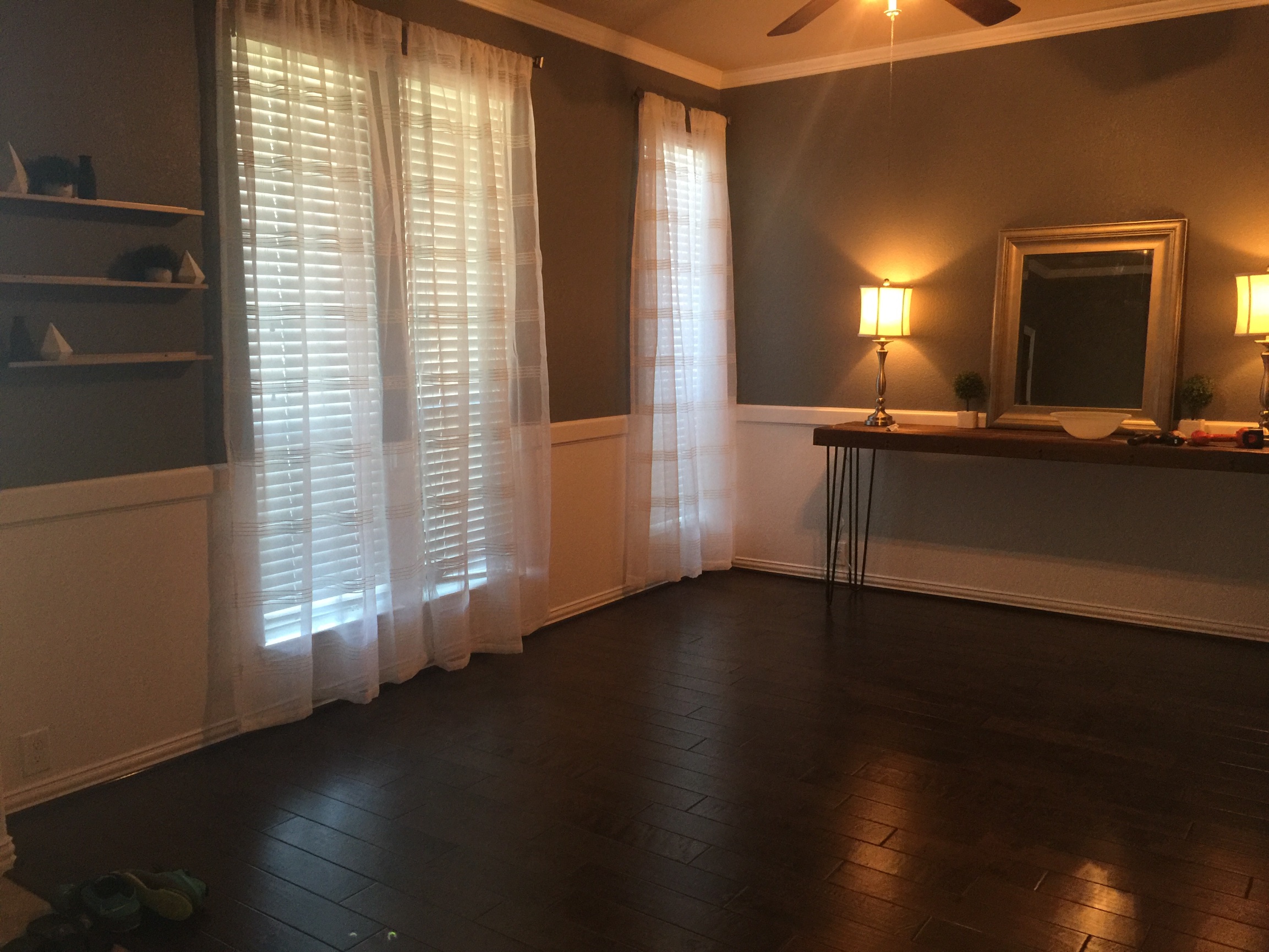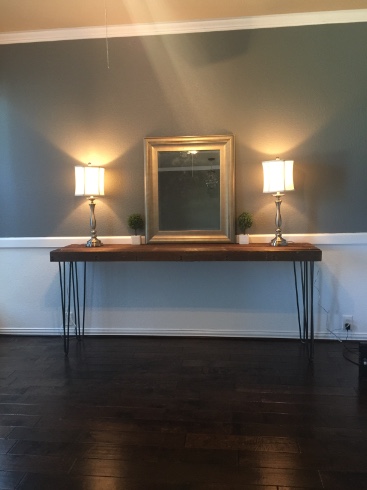 Paint: Home Depot- Behr 
Curtains: Home Goods
Shelving: West Elm 
Lamps: Home Goods 
Plants: Ross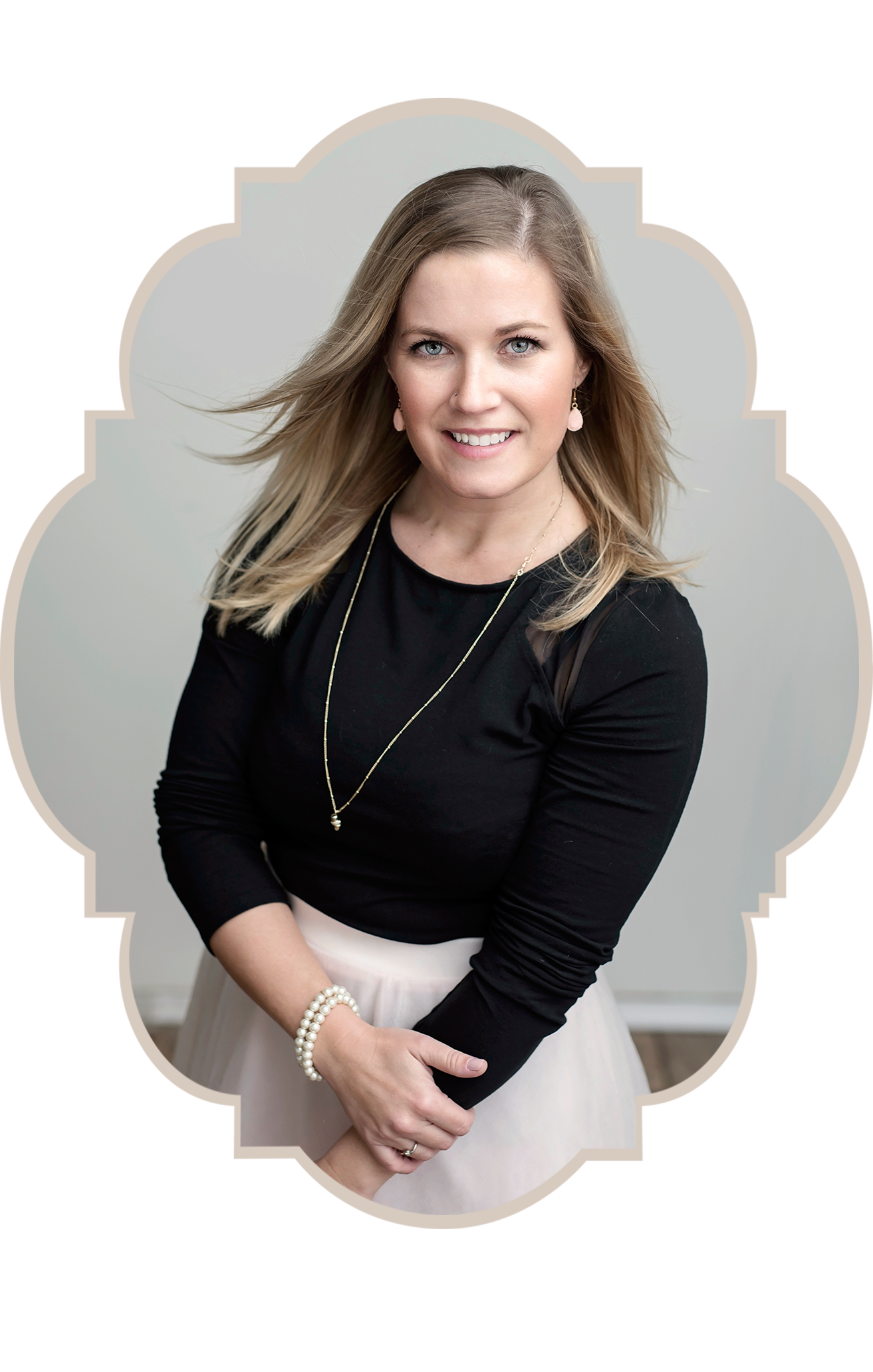 -XOXO- Kari